First Team Subaru
is proud to congratulate 
Leslie Saul, 
the winner of the
2018 GOLDEN APPLE AWARD
.
Leslie Saul - a fifth-grade teacher from Back Creek Elementary School.  The Golden Apple Award is the single highest honor presented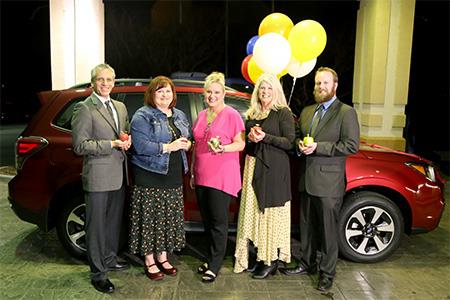 to a teacher by the Education Foundation.  In addition, Saul will be Roanoke County Public School's nominee for the Virginia Teacher of the Year Award.
Each year, teachers from across Roanoke County Public Schools are nominated by students, parents, co-workers and administrators to receive Golden Apple Award.  This year, 88 teachers were nominated and 18 teachers were selected as semi-finalists.
In addition to receiving a check for $3,000, Saul received an additional award - the use of a brand-new 2018 Subaru Forester for one year, courtesy of First Team Subaru, with custom license plates that read GR8-TCR (Great Teacher). 
"Educating young people is so vital for the future success of our communities, and great teachers make that happen," said David Dillon, president and general manager of First Team Subaru and First Team Auto Mall. "As a family owned company that believes in supporting the communities we serve, First Team is honored to support outstanding teachers and celebrate their efforts."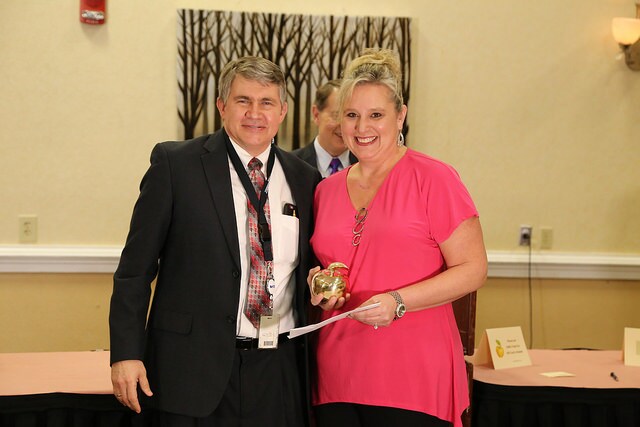 About the Roanoke County Education Foundation:
The Roanoke County Education Foundation was created in 1991 as a 501 (c) 3 non-profit organization to help young people in Roanoke County Public Schools meet some of their educational and personal goals.  Our mission is to promote the advancement and further the aims and goals of Roanoke County Public Schools through the development and application of donated financial resources.  We provide student scholarships for graduating seniors; classroom grants for innovative teaching ideas; assist with student travel to attend state and national competitions; provide resources for international education; and assist students in remedial education and substance abuse programs.
Since our inception, we have provided over one-million dollars in scholarships to 1,700 graduating seniors; more than $295,000 in classroom scholarships to almost 1,600 teachers; and more than $300,000 to support travel and educational programs.  In all, that's over $1.5 million in support the teachers and students at Roanoke County Public Schools.